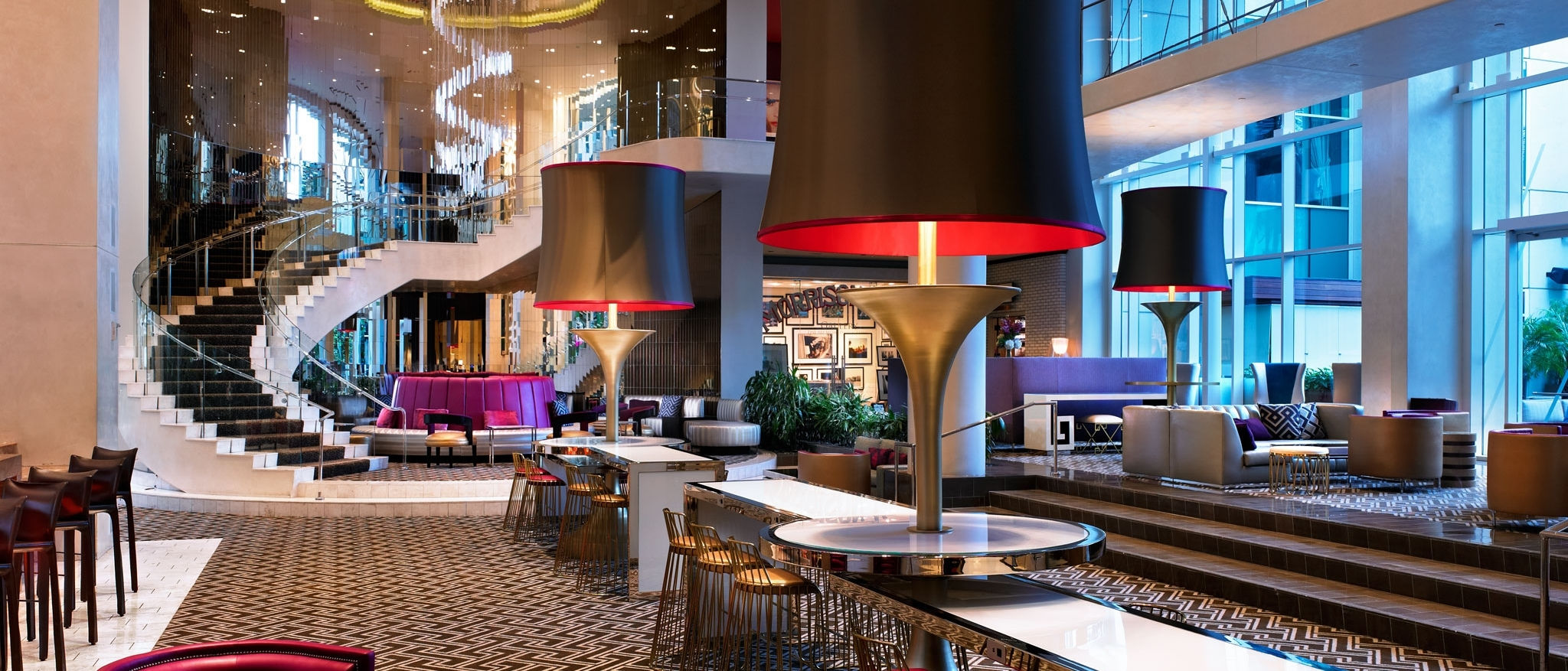 At W Hollywood, the difference is in the details. W Insider, Chris Nelson proves this point. No request is too large or too small for W Hollywood's Insider to accomplish. He is a king of the social scene and can make your wishes reality. Want travel tips when visiting Hollywood? Chris takes you on a sample two-day itenarary for the best things to do while you're in town.
MEET CHRIS NELSON

DAY 1
Surf in the Morning / Board in the Afternoon
"You can go snowboarding, you can go surfing, all in one day. I don't know anywhere else you can do that in America, or anywhere else in the world," says Chris. LA's 72-mile coastline contains more than 30 miles of beaches such as Venice, Malibu, Manhattan Beach and Santa Monica where you can catch early morning waves. LA is also surrounded by mountains where you can spend the rest of the day skiing/boarding. For great snowboarding, visit Big Bear Mountain, located less than a tank of gas away.
Take the Metro to Downtown
If you're staying at W Hollywood, you're right above the Hollywood/Vine Metro Red Line station. In less than 15 minutes you'll be in Downtown within a short walk to your next destination. Here's some additional info on one of LA's lesser-known infrastructure assets (public transit):
For detailed schedules, fares, interactive maps, multi-language pocket guides and more info, visit www.metro.net.
Dine at Bottega Louie
The sprawling snow-white culinary palace at the base of the Brockman Building draws Downtown businesspeople and loft-dwellers to the Italian restaurant, gourmet market and bakery operated by Daniel Flores and chef Sam Marvin. Floor-to-ceiling windows confirm just how popular the restaurant is to passersby, who have clear views of the continually packed house.
Catch a Game in Style
Hyde Lounge is a luxurious, exclusive lounge inside STAPLES Center that provides a VIP viewing experience for all events. It opens one hour before every Staples event and stays open two to three hours after the event. Hyde Lounge features 4,000 square feet boasting two salons, two bars and a dancehall. Sit in ledge seats overlooking the arena while being served tableside bottle service, or try one of their eight signature cocktails including the MADhattan & Burning Mango in the Wilt Chamberlain-inspired VIP lounge.
DAY 2
Cruise Sunset Boulevard
If you're staying at W Hollywood, Sunset Boulevard is just one street to the south of the hotel and an amazing 12-mile drive to the ocean. By day, this scenic L.A. drive, which stretches from Downtown through Pacific Palisades to the ocean, is a vibrant collection of boutiques, outdoor cafés and countless references to pop culture, including the old Hollywood Palladium and the famed Sunset Tower Hotel. After dark, Sunset Boulevard - and particularly the mile-and-a-half stretch known as The Strip - morphs into a pulsating hub for live music, dancing and nightlife. The Strip has a long-standing reputation as a playground for celebrities and is home to some LA's most famous nightclubs. Live music at Whiskey a-Go-Go, The Roxy, Viper Room or House of Blues Sunset Strip; and top-name comedy acts at the Laugh Factory, can be found along this scenic drive.
Rollerblade Down the Boardwalk
This is one place where it's almost as much about the people as it is about the surf or the sand. In fact, the eclectic Venice Ocean Front Walk can almost upstage the scene on the sand. As you're strolling the boardwalk, keep your eye out for Harry Perry, the turbaned guitar player on roller blades who has appeared in numerous films and TV shows. This is also the spot to see the rubber-snake wrangler, the metal-ball-rolling, Speedo-wearing bodybuilder, the chainsaw juggler and a full complement of palm readers, folk artists and other colorful characters.
Tour LA's Friendly Skies
With more than 400 square miles to the breadth of LA County, a trip by helicopter will get you there; no matter where you want to go or what you want to see. Check out the Hollywood Sign and the hidden mansions of the Hollywood Hills, then circle the skyline of Downtown and beeline to the beach following the spine of the Santa Monica Mountains. Several companies, including Group 3 Helicopters, Adventure Helicopter Tours, Elite Helicopter Tours, Star Helicopters and Orbic Air Helicopter Tours can handle any sky-high request.
Steel Panther in the House ... of Blues
Steel Panther is: Michael Starr on vocals, Satchel on guitar, Lexxi Foxxx on bass and Stix Zadinia on drums. Every Monday night covers of 80s hair metal hits rock the stage. The House of Blues® Sunset Strip hosts all kinds of musical acts. You'll catch hip-hop, heavy metal, alternative, gospel, country and many other genres (including 80s pop). Of course, you'll also get a healthy dose of blues acts passing through. From the outside, the venue looks like something transported straight to LA from the Mississippi Delta, with its rusty corrugated tin roof and factory-like water tower. Inside, the venue is as polished as any in LA. Be sure to check out the Sunday gospel brunch, which is a must for any LA visit. The Foundation Room is a VIP area where guests can order from a special dinner menu and enjoy spaces perfect for private parties and events.
Photo by Severin Koller