W Hollywood Pool
Join us for a swim, or hang out at WET®, our famous rooftop pool and bar in Los Angeles. Enjoy stunning views of Los Angeles and Hollywood in the comfort of your own W lounge chair or private luxury cabana.
GET FIT
W Happenings presents Get Fit with Brit Middleton, Eryt & Hot 8 Yoga. Join us every Sunday at 10am at the Wet Deck. Guests can reward themselves post workout, and cocktail poolside or relax in the Bliss Spa Cabana.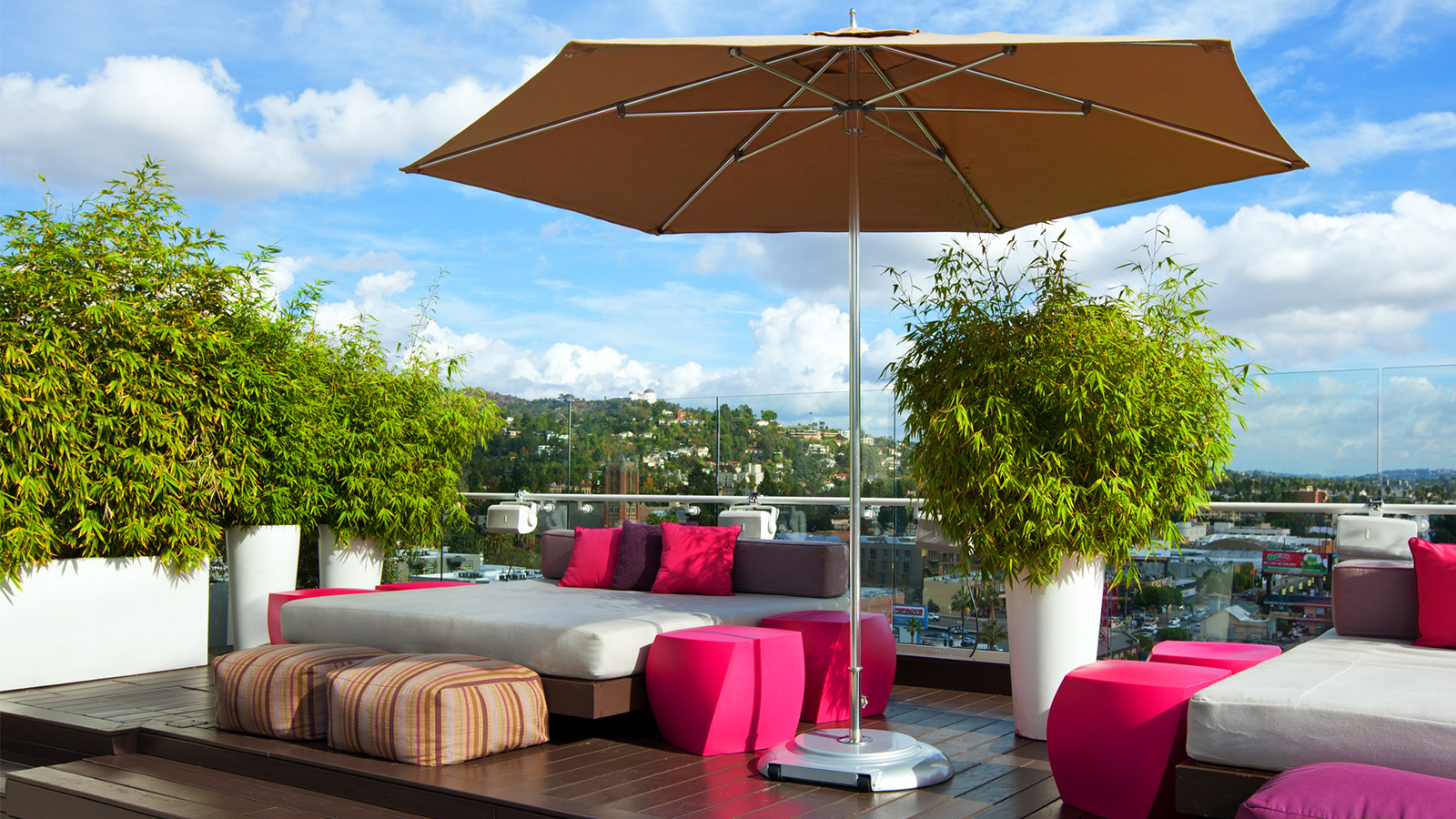 HOURS
Pool hours are 6am - 8pm. Hours are subject to change based on weather, capacity, and special events. Food and beverage service available after 10am daily. DJs will be spinning at the WET deck on Friday, Saturday and Sunday from 1pm - 5pm.
LOUNGE CHAIRS
Lounge chairs are complimentary, for hotel guests only, and are available on a first come, first serve basis. Chairs cannot be held by placing personal items on them. Personal items left unattended will be turned into security and the chair will be released.
WET DECK GUEST POLICY
The WET Deck is available for hotel guest use only. All outside patrons must reserve a cabana or daybed for entrance. Cabanas and daybeds can be reserved by calling the W Insider, Chris Nelson at 213 308 8110 or by reserving online.
WET DECK WEEKENDS
During the weekend, our Hollywood pool is a sophisticated environment best suited for adults after 1 pm. Please contact us at 323 798 1300 for assistance if you'd like to make alternate arrangements.
MINOR POLICY AT WET
While we don't recommend minors on the weekends at WET after 1 pm, we do allow it. All minors (under 21) must be accompanied by an adult (parent or legal guardian) hotel guest at all times to access the WET Deck, as there is no lifeguard on duty.
CAPACITY POLICY
We want all of our guests to be able to take advantage of the incredible scene at WET. Due to capacity issues, we only allow access for 2 guests per King Guestroom, and 4 guests per Queen Guestroom or Suite. Sorry, no exceptions. All hotel guests wanting to access the WET pool will be issued 1 wristband per guest based on the capacity policy above. Wristbands must be worn at all times for entry. A wristband does NOT guarantee entrance to WET. In order to guarantee entrance, hotel guests must arrive at the pool prior to capacity. It fills up quickly, so get there early.
DRESS CODE
While we encourage and promote self-expression through fashion, we have a firm dress code. Only appropriate beachwear is welcome poolside at WET. This means NO jeans, basketball shorts, boots, printed shirts with offensive or aggressive graphics, or inappropriate swim or athletic wear. At night, our dress code is upscale and "dress to impress". Men must wear closed toe shoes and a collared shirt to access the bars.
HOTEL GUESTS
After 12 PM on your day of departure from the hotel, guests are NOT guaranteed entrance to the WET Deck. Late check-out can be arranged with the Welcome Desk for a nominal fee to guarantee entrance after a guest's check-out time. For Sunday departures, please complete the WET Deck Day Rates Request Form so you can enjoy the WET Deck all day Sunday before your departure.